Elven waybread satiated with the first bite – because it is impossible do get any more down afterwards. Gnome Waybread however can do much more, because it only satiates after eating quite a lot of it. But opposed to its more well known elven counterpart, it makes you happy starting with the first bite.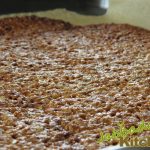 Gnome Waybread - Sweet Herb Cookies
As always, it takes the Gnome approach to turn an old elven idea into something that will not only get you where you want to go, but also get you there happy.

Ingredients
100

g

oat flakes

100

g

coconut flakes

120

g

flour

you can use gluten free

40

g

cornstarch

180

g

sugar

150

g

butter

2

tbsp

honey

1

tsp

baking powder

3

tbsp

water

4

tsp

sage

2

tsp

thyme
Instructions
Miix oat flakes, coconut flakes, sugar, cornstarch and flour thoroughly in a bowl.


Gently melt butter and honey in a pot. Mix baking powder with the water and add to the liquid butter.


Add the contents of the pot and the herbs to the bowl and knead it all until everything is mixed thoroughly.


Roll it onto a baking sheet covered with baking paper and make sure to keep the thickness even.


Optional: use a knive to add break lines for square ot triangle-shaped pieces.


Bake at 160°C/320°F for about 20 minutes.


Let the Waybread cool down.

Recipe Notes
Instead of breaking the Waybread into pieces right away, you can do things in style and keep it in larger chunks for later use like Gnomes tend to do.
Keep in an airtight box when possible.
---
[adinserter block="1″]
---
When to eat Gnome Waybread [Story Ideas]
Gnome Waybread is neither a closely guarded delicacy, nor really rare. It is being made and sold my enterprising gnomes wherever travellers with enough money worth their while can be expected.
Since this is not a main dish (even though you might find yourself consuming equal amounts), this dish can be eaten during an adventure. Even more so than with a full meal, this allows for the characters to share their opinions about this food (or gruel) aloud. Maybe there is someone who does not see the merit in this specialty, and one who never wants to eat anything else in her life.
With a little luck this can turn into a running gag, where every stoke of luck or stint of back luck is attributed to the consumption of Gnome Waybread ("If only we had bought from that Elf rather than this little squaller…"). As usual, the possibilities are endless here.
What do you think about Gnome Waybread?
I would love to hear what you think about this recipe, what you as a responsible Gnome chef would change about it, and how you like the taste of the original. Thanks for readong, and remember to cook with inspiration!